Pattern Discrimination, Book Launch and Discussion Session with Clemens Apprich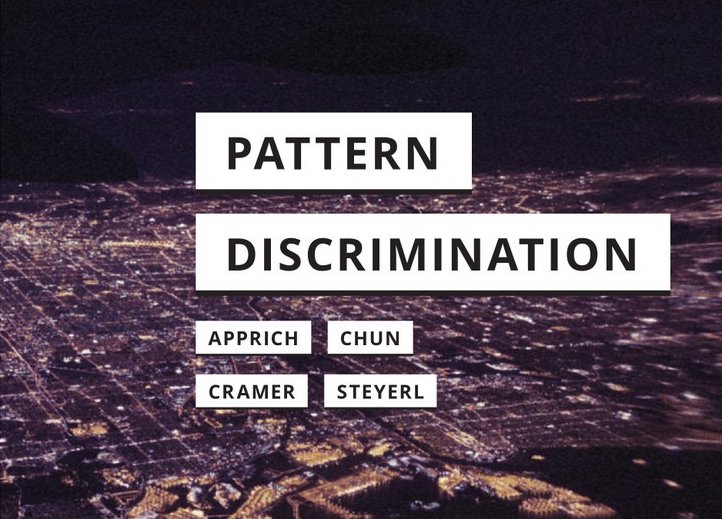 Pattern Discrimination, Book Launch and Discussion Session with Clemens Apprich 
Friday March 15th, 3:00-4:30pm  
Center for Spatial Research  
654 Schermerhorn Extension 
How do "human" prejudices reemerge in algorithmic cultures allegedly devised to be blind to them? To answer this question, this book investigates a fundamental axiom in computer science: pattern discrimination. By imposing identity on input data, in order to filter—that is, to discriminate—signals from noise, patterns become a highly political issue. Algorithmic identity politics reinstate old forms of social segregation, such as class, race, and gender, through defaults and paradigmatic assumptions about the homophilic nature of connection. 
Join Dennis Yi Tenen and Laura Kurgan for an informal discussion session centered around the recent release of Pattern Discrimination (Minnesota UP) by Clemens Apprich, Wendy Hui Kyong Chun, Florian Cramer, and Hito Steyerl. Clemens Apprich is the author of Technotopia. A Media Genealogy of Net Cultures (Rowman & Littlefield International, 2017), Visiting Research Fellow at the Mel Hoppenheim School of Cinema at Concordia University in Montréal, and member of the Centre for Digital Cultures (CDC) at Leuphana University of Lueneburg. 
Presented by the Columbia Center for Spatial Research, Group for Experimental Methods in Humanistic Research at Columbia University, and the Centre for Digital Cultures at Leuphana. 
Seating is limited, please RSVP to [email protected] by Wednesday March 13.