Ways of Knowing Cities - Conference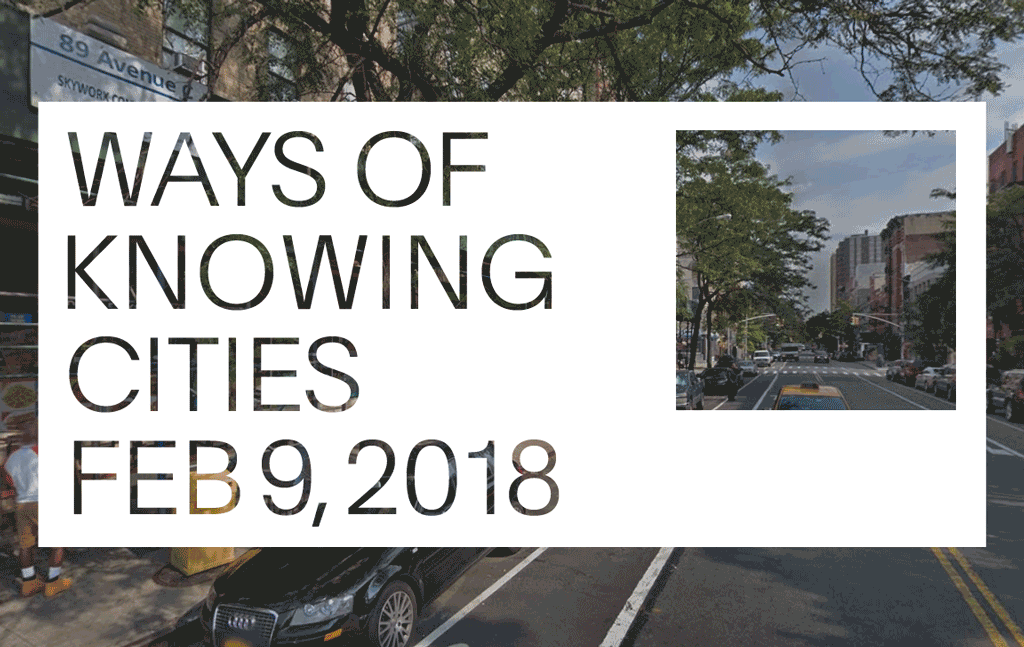 Ways of Knowing Cities  
Friday, February 9, 2018, 9:30 am 
Wood Auditorium, Avery Hall 
Pre-registration is now closed, the auditorium seating is first come first served. Registration does not guarantee seating. The conference will be live streamed to Ware Lounge in Avery Hall and online at arch.columbia.edu.  
See knowing-cities.c4sr.columbia.edu for full schedule. 
Technology increasingly mediates the way that knowledge, power, and culture interact to create and transform the cities we live in. Ways of Knowing Cities is a one-day conference which brings together leading scholars and practitioners from across multiple disciplines to consider the role that technologies have played in changing how urban spaces and social life are structured and understood – both historically and in the present moment.  
Keynote lectures by Wendy Hui Kyong Chun and Trevor Paglen 
Participating Speakers
Simone Browne, Maribel Casas-Cortés,  Anita Say Chan, Sebastian Cobarrubias,  Orit Halpern, Charles Heller,  Shannon Mattern, V. Mitch McEwen, Leah Meisterlin,  Nontsikelelo Mutiti, Dietmar Offenhuber, Lorenzo Pezzani, Robert Pietrusko, and Matthew Wilson. 
From John Snow's cholera maps of London and the design of the radio network in Colonial Nigeria to NASA's composite images of global night lights, the way the city and its inhabitants have been comprehended in moments of technological change has always been deeply political. Representations of the urban have been sites of contestation and violence, but have also enabled spaces of resistance and delight. Our cities have been built and transformed through conflict, and the struggle is as much informational and representational as it is physical and bodily. Today, the generation and deployment of data is at the forefront of projects to reshape our cities, for better and for worse. As a consequence, responding to urban change demands critical literacy in technology, and particularly data technologies. The conference addresses itself to the deep ambivalence of interventions in the urban, as it explores the ways that knowledge regimes have impacted the built world. In this sense, it seeks to catalyze more robust, creative, and far-reaching ways to think about the relationship between the urban and the information systems that enable, engage and express the city. 
Please note, seating will be first come, first serve. Registration does not guarantee seating. The event will be livestreamed in Ware Lounge, Avery Hall and on arch.columbia.edu.  
Support for Ways of Knowing Cities is provided through a grant from the Andrew W. Mellon Foundation, and hosting by Columbia GSAPP.