Million Dollar Blocks
Using rarely accessible data from the criminal justice system, we have created maps of "million dollar blocks" and of the city-prison-city-prison migration flow for five of the nation's cities.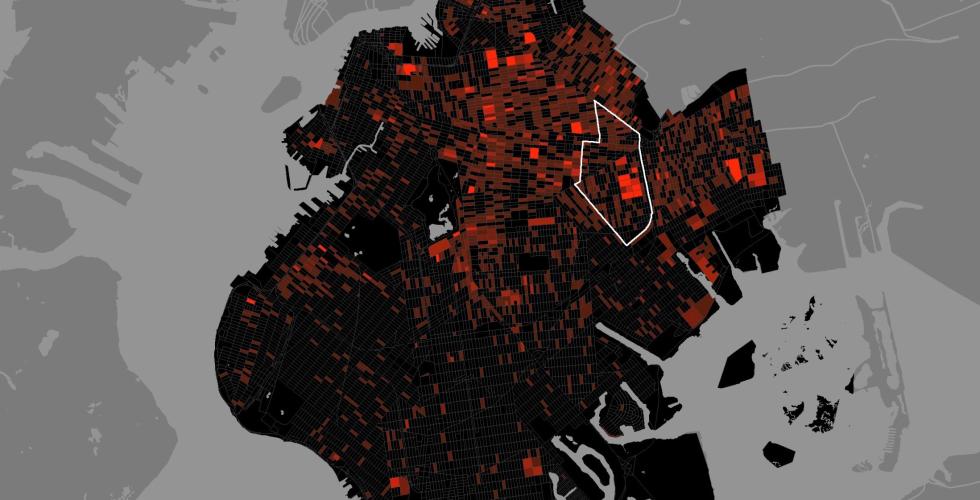 Prison Expenditures in Brooklyn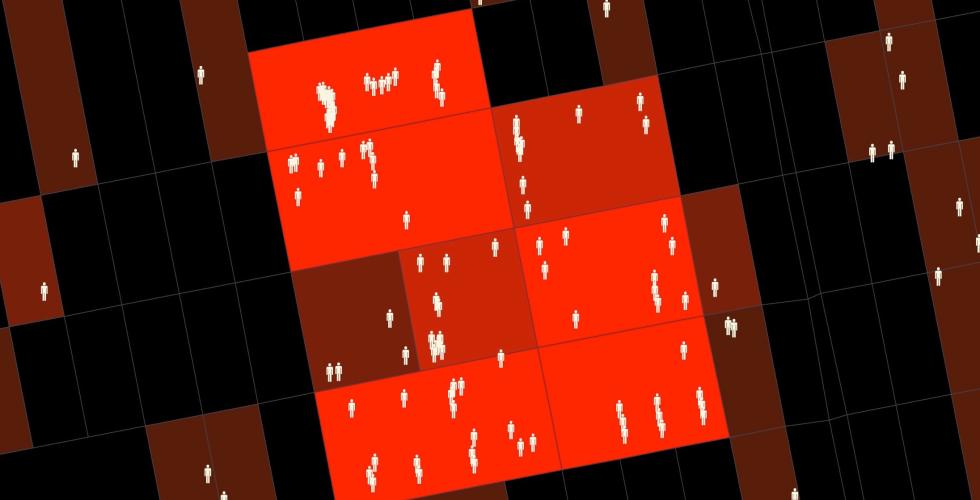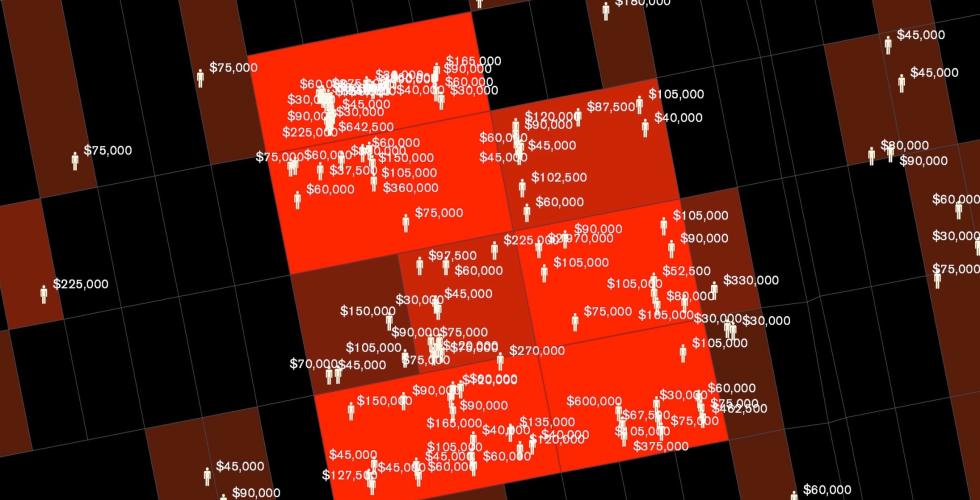 Million Dollar Blocks in Brooklyn's Community District 16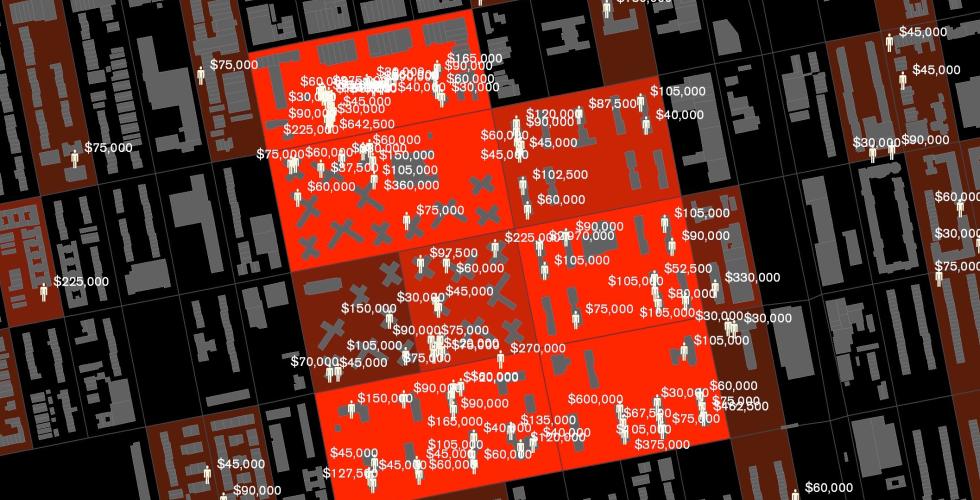 Brooklyn's Community District 16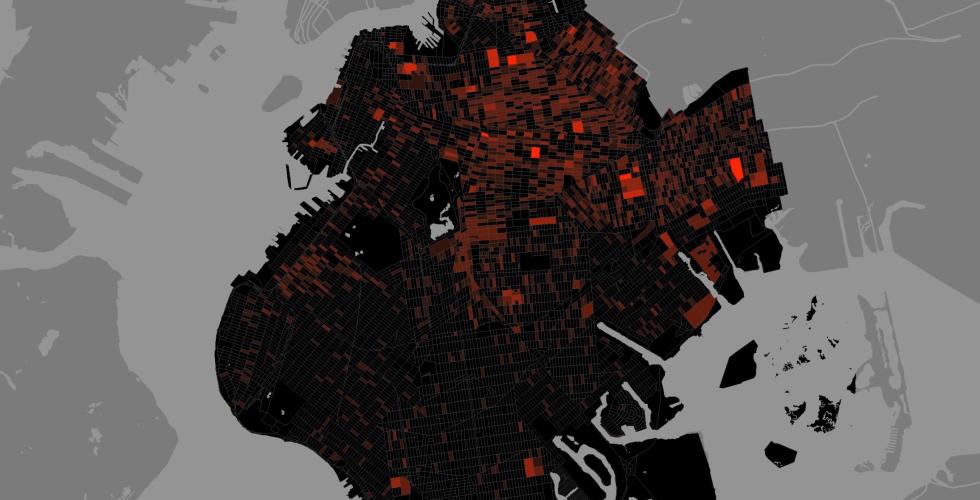 Prison Admissions in Brooklyn
The United States currently has more than 2 million people locked up in jails and prisons. A disproportionate number of them come from a very few neighborhoods in the country's biggest cities. In many places the concentration is so dense that states are spending in excess of a million dollars a year to incarcerate the residents of single city blocks. When these people are released and reenter their communities, roughly forty percent do not stay more than three years before they are reincarcerated. 
Using rarely accessible data from the criminal justice system, the Spatial Information Design Lab and the Justice Mapping Center have created maps of these "million dollar blocks" and of the city-prison-city-prison migration flow for five of the nation's cities. The maps suggest that the criminal justice system has become the predominant government institution in these communities and that public investment in this system has resulted in significant costs to other elements of our civic infrastructure — education, housing, health, and family. Prisons and jails form the distant exostructure of many American cities today. 
The project continues to present ongoing work on criminal justice statistics to make visible the geography of incarceration and return in New York, Phoenix, New Orleans, and Wichita, prompting new ways of understanding the spatial dimension of an area of public policy with profound implications for American cities.
Million Dollar Blocks is the first of a series of projects to be undertaken by SIDL, as part of a two year research and development project on Graphical Innovation in Justice Mapping. The project, generously supported by the JEHT Foundation and by the Open Society Institute activates a partnership between the Justice Mapping Center (JMC), the JFA Institute (JFA), and the Columbia University Graduate School of Architecture, Planning & Preservation (GSAPP).
This unique partnership enables the Justice Mapping Center to refine analytical and graphical techniques within the research and teaching environment of the Spatial Information Design Lab, which can then be applied to real life policy initiatives through work with the JFA Institute. Reciprocally, input from state and local leaders is then brought back to the Design Lab for further development. This feedback loop is a valuable tool resulting in new methods of spatial analyses and ways of visually presenting them that reveal previously unseen dimensions of criminal justice and related government policies in states across the United States.
The results of this collaboration have transformed the project into multiple formats and forums for exhibition.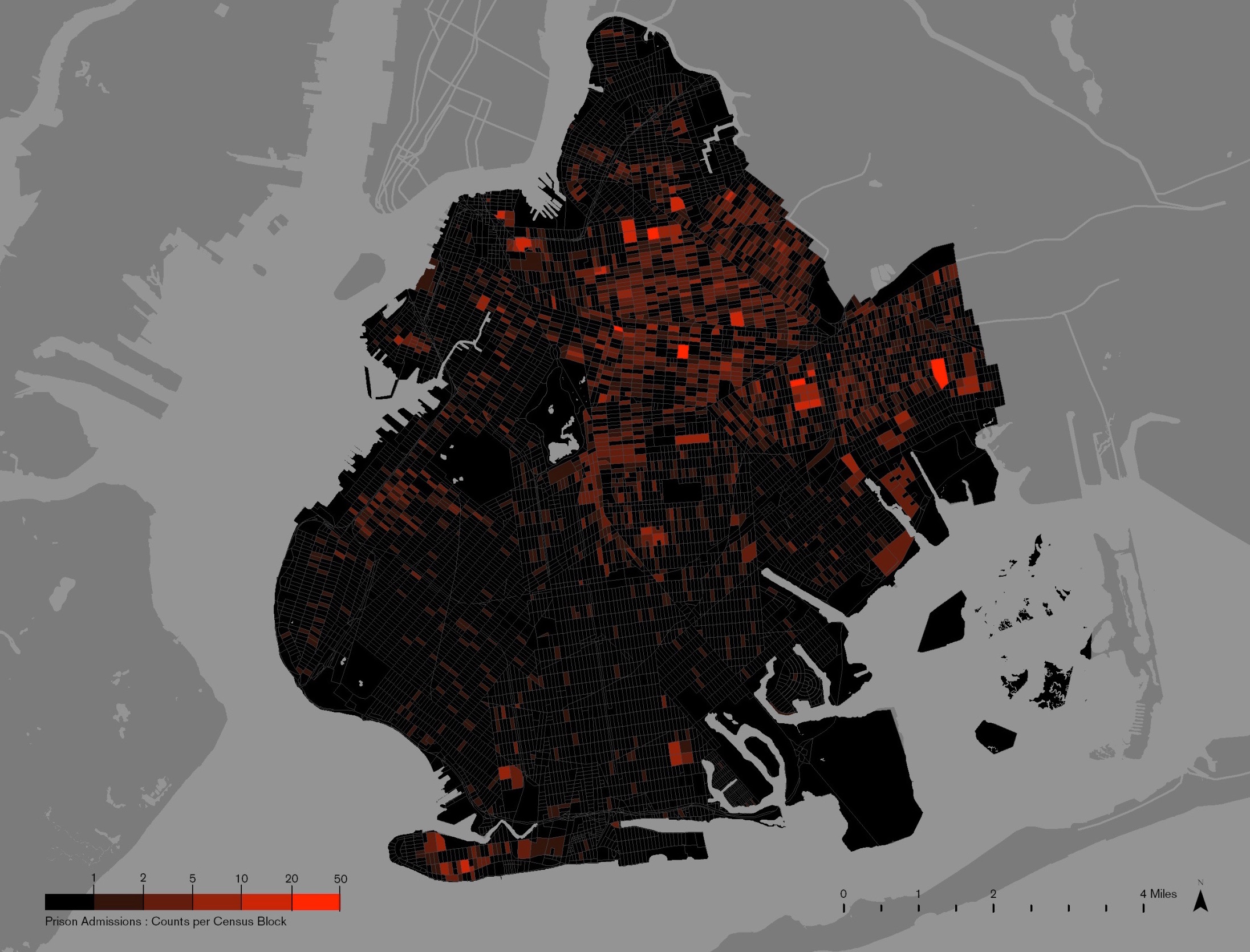 Data in geographic context shows people in prision are highly concentrated in specific neighborhoods.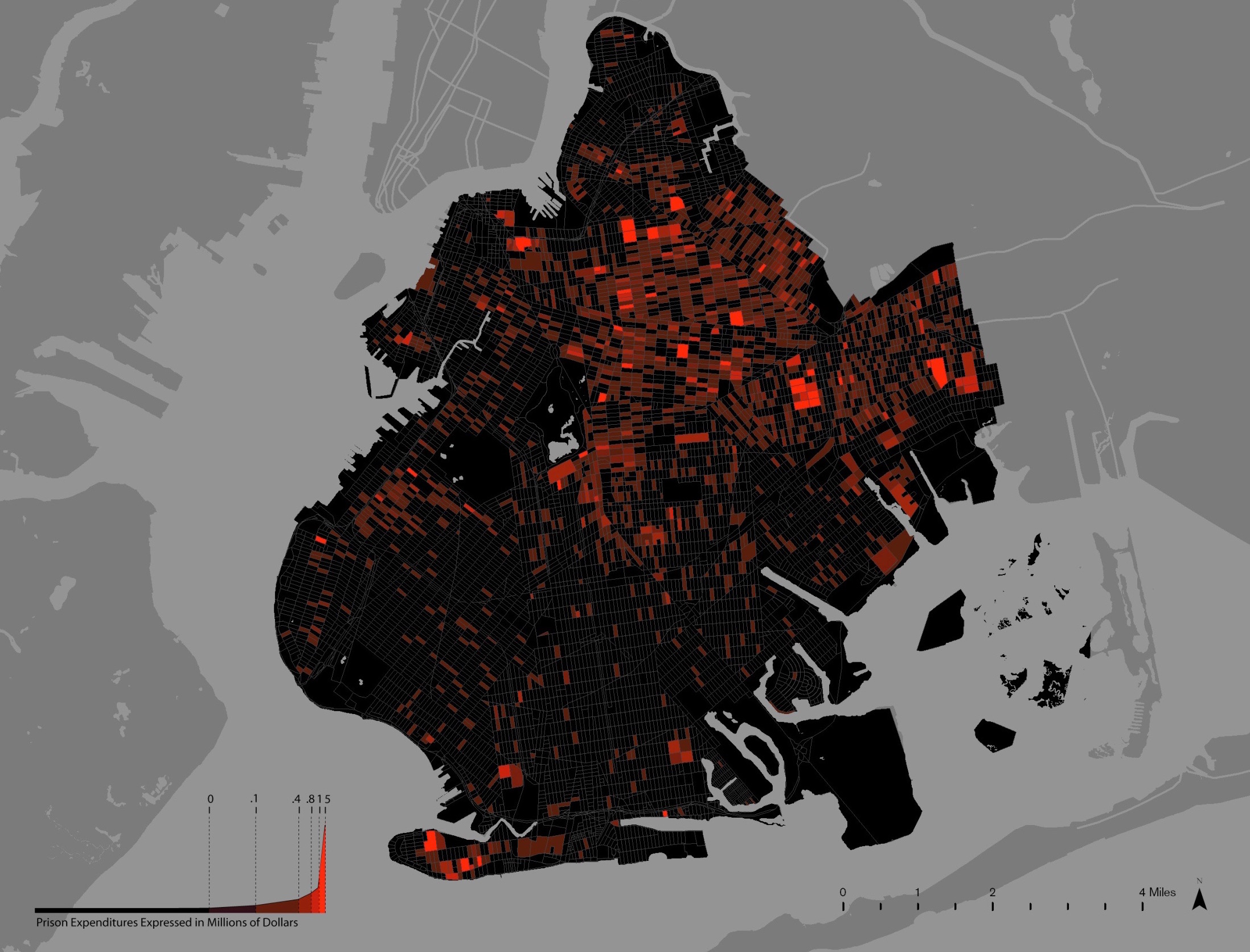 Added up block by block, it cost $359 Million Dollars to imprision people from Brooklyn that year.
From a demographic point of view the spending facilitates a mass migration of people to prision, 95% of whom eventually return home.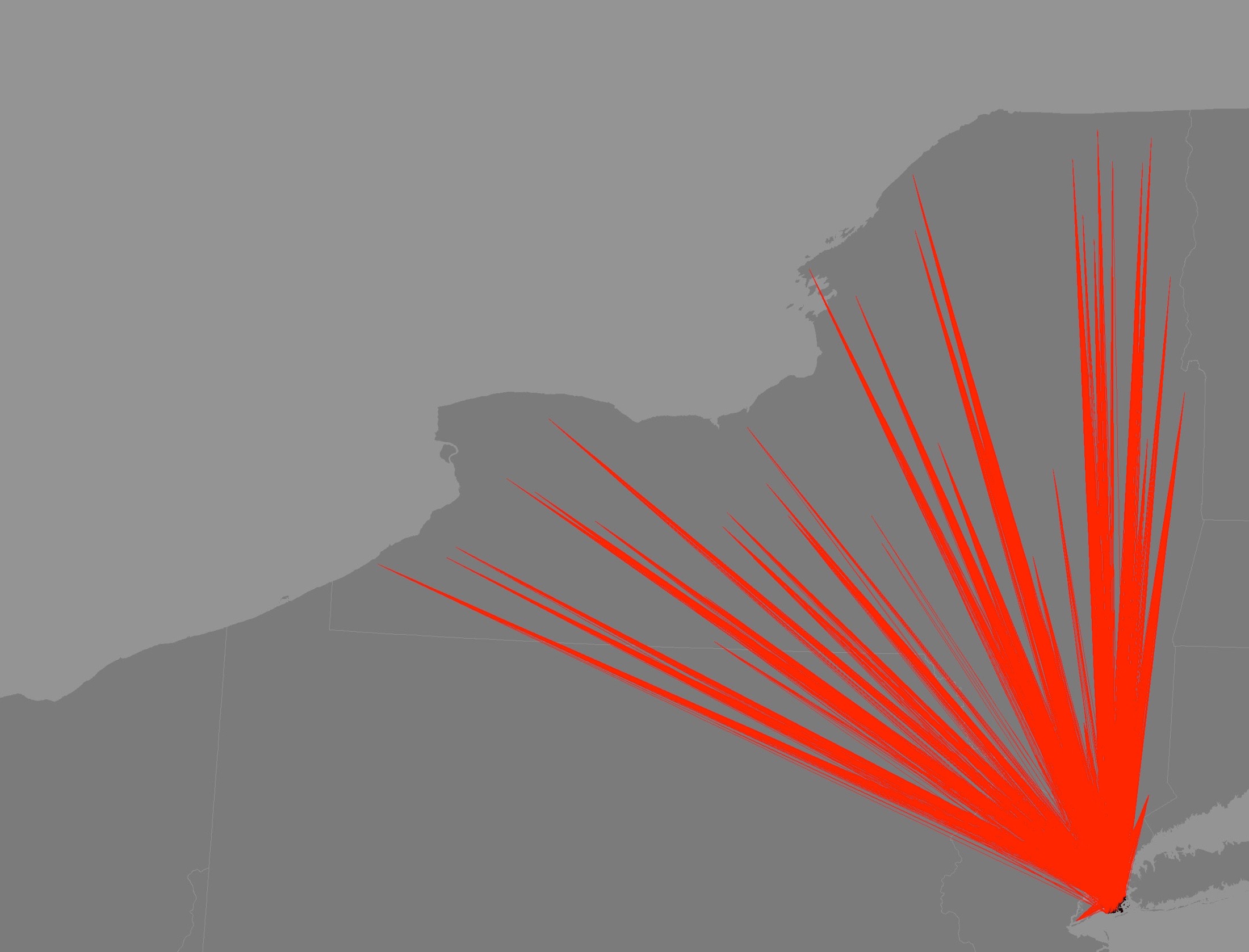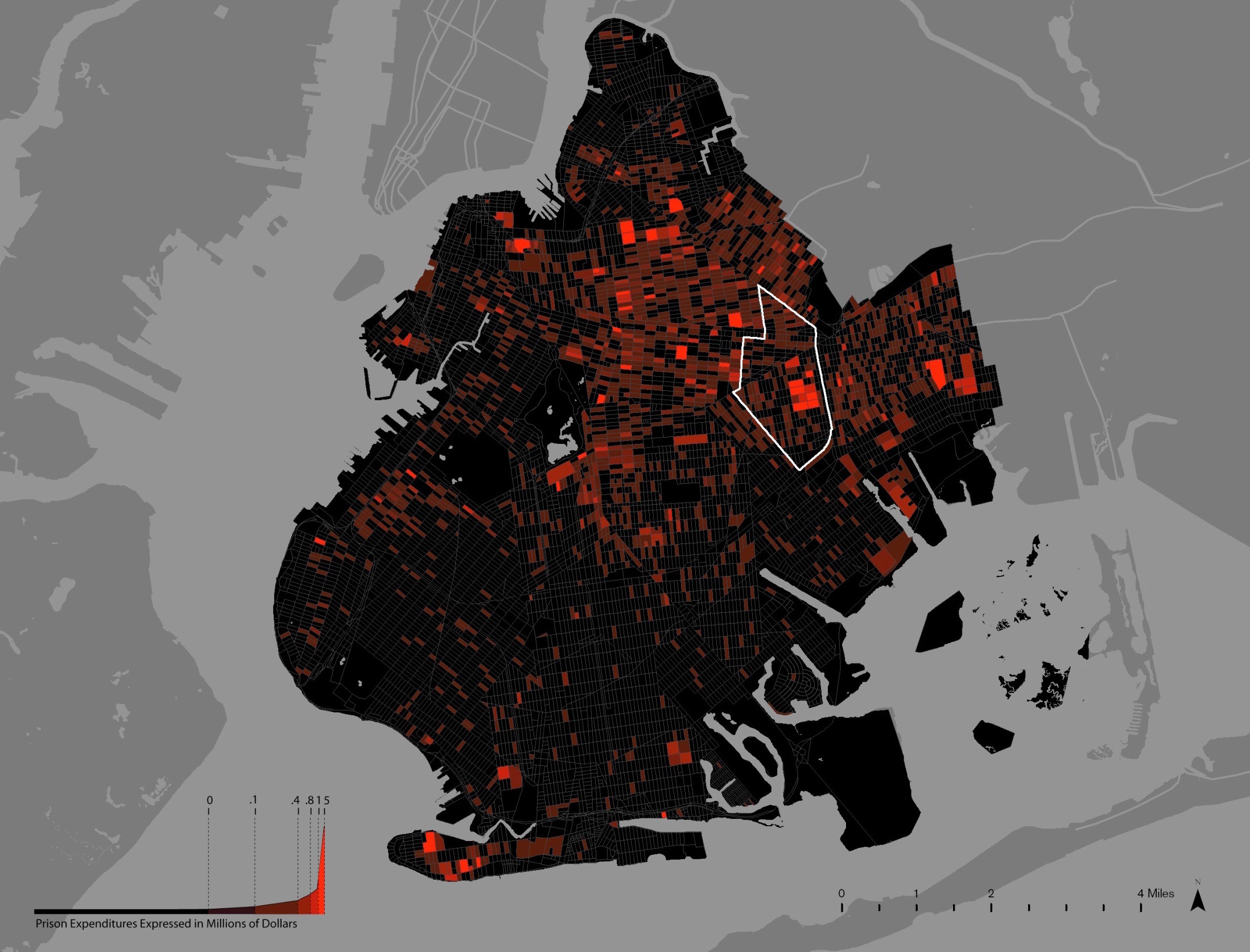 Community District 16 has 3.5% of Brooklyn's population but 8.5% of its prision admissions.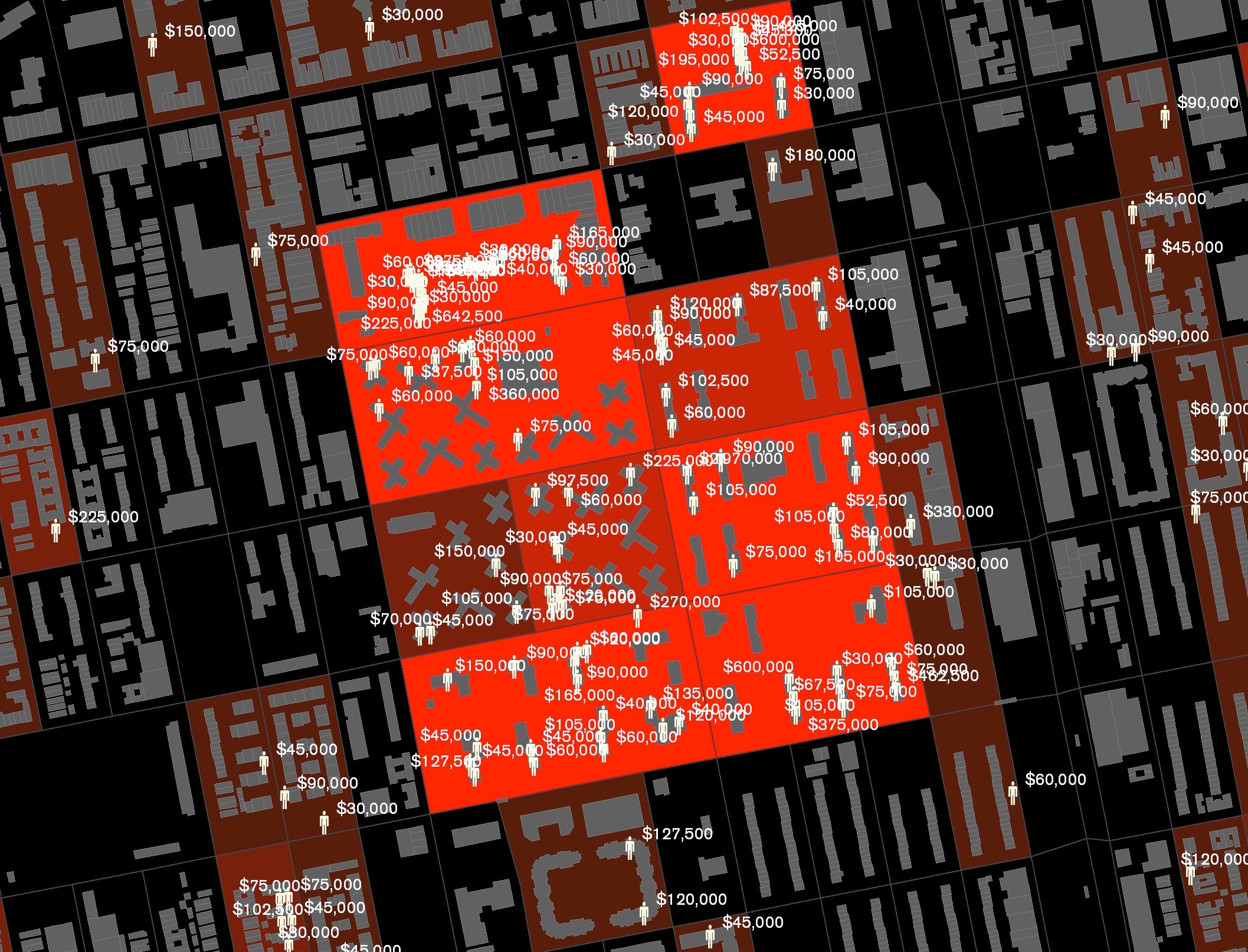 It cost $11,839,665 to incarcerate people from these 11 blocks in 2003. We call these Million Dollar Blocks.